What Our Patients Like Most About Our Pharmacy
We would love your feedback! Please let us know how we are doing and leave us a review below.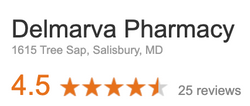 "Staff always courteous and professional. Pharmacists are always attentive and very helpful. No complaints."

"I love love love this pharmacy. I have been going here for years, the staff is amazing!! And they always have my medication done for me on time. I wouldn't recommend going anywhere else but here!"

"Very friendly staff and the fact that they deliver your prescription makes it even more convenient. Great customer service in or over the phone."

"The staff at Delmarva Pharmacy always go up and above what any pharmacy I have been to in the area has ever done. They are always fast, friendly and just have a great setup inside to browse! They have never messed up one medication!"

"Pleasant and very helpful staff, clean and attractive facility. Love it here."
We would appreciate your feedback to share on this page of our website. We'd like to let others know what our current customers have to say about Delmarva Pharmacy! Thank you in advance for your time and consideration.